When discussing classic Hollywood cinema, there are usually several different actors and actresses that come to mind as you murmur the words, "golden age."
Greta Garbo, Fred Astaire, Humphrey Bogart, Bette Davis, James Dean, and Audrey Hepburn, are just a couple of many names on the endless list of legendary classic movie performers.
A woman that doesn't nearly get enough recognition on these lists is Ireland's very own 'Queen of Technicolor', Maureen O'Hara.
---
Born on August 17th, 1920 in Ranelagh, Ireland, O'Hara's career lasted 61 years, triumphantly ending in 1991 with the romantic-comedy Only the Lonely starring alongside John Candy. During those six decades, she co-starred with some of the most admired actors in film history.
From Tyrone Power to John Wayne and even Charles Laughton, Maureen O'Hara's film roles were just an extension of who she was as a woman.
Whether it be sword fighting with Errol Flynn, planning a summer vacation with Jimmy Stewart, or falling madly in love with John Wayne on the mountainous terrain of rural Ireland, Maureen O'Hara's filmography is perhaps one of the most underappreciated in classic Hollywood history.
Humble Beginnings
Strikingly beautiful and blessed with an aura that the camera naturally gravitated too, O'Hara was raised in the sleepy Dublin neighborhood of Ranelagh.
Born to Charlie and Marguerite (née Lilburn) FitzSimons, Maureen has said that her adolescence was "the most remarkable and eccentric that she could've hoped for."
Being the second oldest of six children (and the only red-head), O'Hara lived a relatively happy and carefree childhood. She would often describe her mother in a kind light, saying that she,"inherited [her] singing voice from [her] and that when her mother would leave the house, men would "leave their houses just to catch a glimpse of her on the street."
O'Hara has also asserted in interviews that she was a rather "blunt child", saying that she "didn't take discipline very well."
As an infant, she was given the nickname, "Baby Elephant" for having a stout physique. Her tomboyish nature had her take part in a number of physically strenuous activities like fishing, riding horses, judo and even Gaelic Football.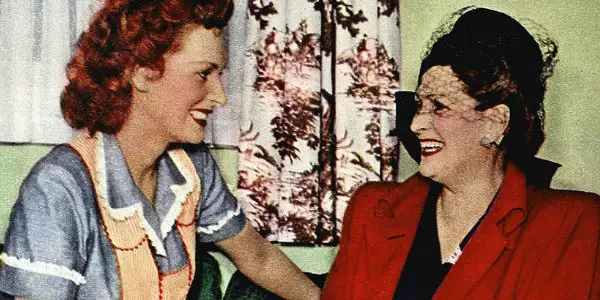 At the age of 5, she began dancing. O'Hara didn't take the hobby seriously until a gypsy spotted her and prophesied that she would one day become well-known for her acting skills.
She initially scoffed at the idea, but her parents coaxed her into the thought. Her hunger quickly for fame quickly grew and by age 10 she was working for the Rathmines Theater Company, where she honed her skills in amateur theater productions.
It wasn't until the age of 17 when O'Hara grew into her stunning looks that casting agents started giving her attention.
By 1937, O'Hara was a full-time actress, working at the Abbey Theatre where she swiftly caught the attention of singer/actor Harry Richman. Richman insisted that O'Hara should travel to London to have a screen test done.
She agreed, and when Maureen and her parents landed on the island she was immediately thrust into the limelight, making her screen debut in the 1938 film Kicking the Moon Around.
First Films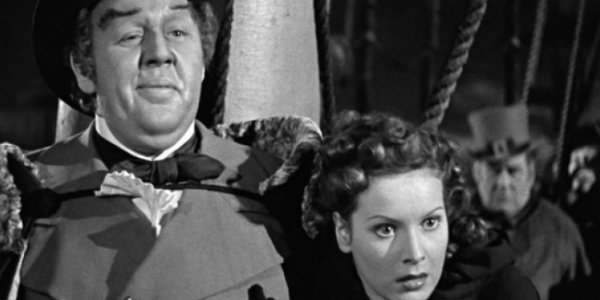 Although O'Hara didn't consider Kicking the Moon Around her screen debut, it's still counted as the first film she's starred in. However, the movie that she truly believed to be her screen debut was the Hitchcock thriller Jamaica Inn.
Co-starring alongside Charles Laughton, Jamaica Inn is a Hitchcock film through and through. Although it isn't as recognizable as some of his later drama/thrillers, it holds it's own as a standalone film.
O'Hara's performance received raved reviews, quickly cementing her place amongst Hollywood elite. She was then offered a seven-year contract off the back of her stand out performance.
At first, she and her family declined, citing that O'Hara was far too young to make such a momentous jump in her career. But, after a few drinks and coddling, they caved and Maureen signed a seven-year contract to Mayflower Pictures.
After that she was cast in The Hunchback of Notre Dame in 1939. Boarding the ship liner from England to New York, then taking a train from NYC to Los Angeles, O'Hara's Hollywood journey truly began.
Because of her role in The Hunchback of Notre Dame, O'Hara's star in Hollywood continued to rise, starring in a number of films like How Green Was My Valley, Miracle on 34th Street and of course The Quiet Man.
She followed those up by starring in a series of John Ford films that, just maybe, cemented her legacy as "Hollywood's toughest broad.
Later Years
As O'Hara got older, she continued to act and hold her own against some of the best in the business, even acting up until the early 1990s. Stand outs from that era include, The Parent Trap, Spencer's Mountain, and the very funny Mr. Hobbs Takes a Vacation.
Unfortunately, after a very long life, Maureen O' Hara would pass away on October 24th, 2015, leaving behind not only a fantastic filmography, but also and incredible legacy as a human being.